8 Days Mt. Kilimanjaro Climbing Summit – Machame Route
The Machame route, known as the "Whiskey" route, is a popular route to the mountain. Compared with Marangu, the days on Machame are longer and the walks are steeper however it offers a great challenge to those who wish to prove their climbing skill. It is considered a difficult route, better suited for more adventurous folks, and those with some hiking or backpacking experience. Machame approaches from the southwest and descends using Mweka, rewarding climbers with views of the expansive Shira Plateau. On this 8 Days Mt. Kilimanjaro Climbing Summit – Machame Route, you will have a great opportunity to explore the African giant mountain, Kilimanjaro which is the tallest on the continent.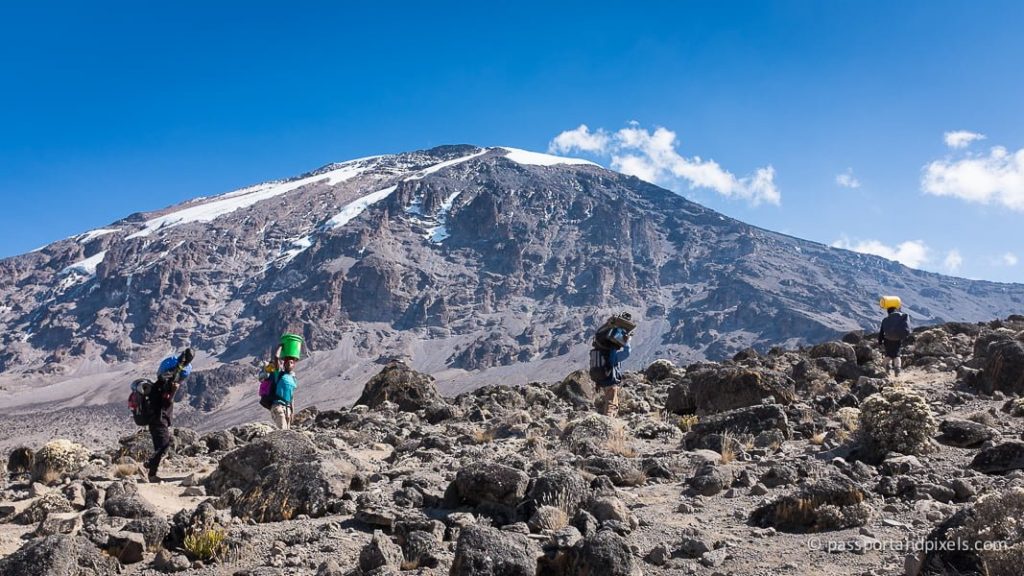 Quick tour details
Duration: 8 days (7 nights)
Number of People: Tailored
Starts/Ends: Arusha
Availability: All year round
Tour Overview – 8 Days Mt. Kilimanjaro Climbing Summit – Machame Route
Day 01: Airport Pick-up and drop off at Hotel
Day 02: Arusha – Machame Hut Camp
Day 03: Shira Camp
Day 04: Barranco
Day 05: Karanga Valley Camp
Day 06: Barafu Hut Camp
Day 07: Summit Day and Mweka Hut
Day 08: Descend and back to Arusha
Detailed day by day itinerary for 8 days Mt. Kilimanjaro climbing Summit – Machame route
DAY 01: AIRPORT PICK-UP AND DROP OFF AT HOTEL
Upon our arrival to Tanzania, you will be picked up by a professional guide from Kilimanjaro International Airport (JRO) and driven to your accommodation in Arusha. Participants will be given a short briefing for the climb the next day. Kits and the necessary equipment will be checked as well.
Meals Plan: Dinner
DAY 02: ARUSHA – MACHAME HUT CAMP (10,000')
After breakfast, you will be picked from your Hotel in Arusha and drive for 1 hour to Machame gate (10,000 ft) for registration. Here you will meet the rest of the crew (Cooks and Porters) and we shall all prepare for the climb. We will start the climb through rain forest and the giant heathers for 6 hrs. We climb the giant until we arrive at our first overnight camp.
Meals Plan: Breakfast, Lunch and Dinner
DAY 03: SHIRA CAMP (12,480')
To climb from 10,000ft to 12,480ft will seem a short distance and day but rather a steep rocky and dusty trails. It's a slow hike with plenty of breaks and enough time to acclimatize. Most of the route is rather bare of vegetation providing little shade from heat. You will cross many ridges and see the first of many Senecias.
Meal Plan: Breakfast, Lunch and Dinner
DAY 04: BARRANCO CAMP (13,000')
Today we will start climbing over boulders and very few rocks, then make our way to a steady uphill climb to Lava tower and there we stop for lunch around noon. For those interested, we may climb up the Lava tower, which is 14850ft (you may start to get a mild headache due to altitude change). From Lava tower we will go down for about 2 hrs through dusty and rocky trails to the Barranco Camp at 13000ft.
Meal Plan: Breakfast, Lunch and Dinner
DAY 05: KARANGA VALLEY CAMP (13,450')
On this day of our Kilimanjaro climbing safari, we start scrambling up the Barranco wall for an hour and half. As this is steep, you will be using your hands to reach and steady yourself like rock climbing, although not as challenging as you may think. At the top of the wall you can see the Barranco valley and the campsite you spent a night before. You will walk up and down the greener valley, which is the last water point to the mountain.
Meal Plan: Breakfast, lunch and Dinner
DAY 06: BARAFU HUT CAMP (14,200')
Crossing from Karanga valley cap to Barafu hut camp is a short distance but steep uphill climb across barren landscape with lots of boulders and shattered rocks. You will see the decken glaciers on your left. We will keep going through a very steep ridge until we reach a rocky section for more scrambling, which will last for about 1.5 hrs. Our next camp will be on large rocks with very steep cliff faces. We will cap off the night early as we need to wake up at 11:00 pm for the summit.
Meal Plan: Breakfast, Lunch and Dinner
DAY 07: SUMMIT DAY AND MWEKA HUT
On this day, our climbing kick-starts at around midnight. The climb will start with very steep rocks for 1 hour, and enter a snow-covered area where you can see glaciers above. If it's a moonlit night, you may turn off your headlamp and continue a moon lit guided walk; indeed a wonderful experience. The next 2 hours is headed towards Stella Point and we will take a break every 15 minutes as the climb gets more mentally and physically challenging.
Afterwards, we will embark on the trails to the Stella Point where the Lava fields are like loose sand. It's a rather enjoyable and frustrating experience because you will take a step up and slide back gaining 0 distance and if you're not careful, you will slide back 2 steps and gain negative 2 steps. What a wonderful experience!!!
Following breakfast, we will climb to Uhuru peak for 1 hr just as the sun appears over the Mawenzi peaks. We will be at Uhuru peak (19370ft) around 6-7 am. We will start our descent, which is steep and rigorous via Stella Point to Barafu Hut Camp.
Meal Plan: Breakfast, lunch and dinner
DAY 08: DESCEND AND TRANSFER TO ARUSHA
The hike will take us about 4 to 5 hours to make the 4,500 feet descent to the park gate. We will check out and receive Kilimanjaro climbing certificate at the park gate office, then eat our lunch and say goodbye to our mountain staff. After lunch, we will drive through very beautiful coffee plantations and small villages of the Chaga people back to Arusha.
End of service
SAFARI INCLUSIONS
 Park fees
 All activities (unless labeled as optional)
 All accommodation as stated in the itinerary
 A professional driver/guide
 All transportation (unless labeled as optional)
 Roundtrip airport transfer
 All Meals (as specified in the day-by-day section)
 Drinking water on all days
 Camping Equipment
SAFARI EXCLUSIONS
 International flights
 Additional accommodation before and at the end of the tour
Personal items (souvenirs, travel insurance, visa fees, etc.)
 Government imposed increase of taxes and/or park fees
 Alcohol drinks
 Rescue Fee
 Climbing Gear
 Sleeping Bag